"Holtzclaw hadn't heard of Auraria until his employer sent him to destroy it…"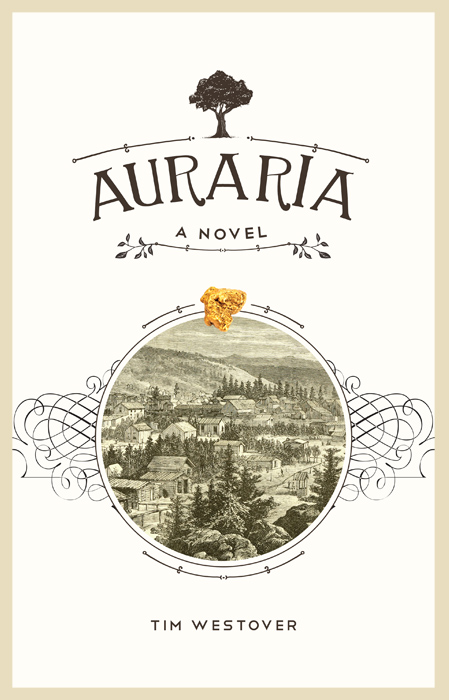 Paperback | 386pp | July 2012
List $17.95
ISBN: 978-0-9849748-0-1
Buy a copy:
"Weaves tall tales and legends, Carrollian surrealism, and a fascinating cast of characters into a genuinely inventive novel that reads like steampunk via Mark Twain. Fact and fancy are intertwined cleverly and seamlessly in a top-notch, thoroughly American fantasy."
Publishers Weekly (starred review)
Shimmery mystery and spirits, humble monsters, singing trees and vengeful fish in the 19th-century north Georgia mountains
Water spirits, moon maidens, haunted pianos, headless revenants, and an invincible terrapin that lives under the mountains. None of these distract James Holtzclaw from his employer's mission: to turn the fading gold-rush town of Auraria, GA, into a first-class resort and drown its fortunes below a man-made lake. But when Auraria's peculiar people and problematic ghosts collide with his own rival ambitions, Holtzclaw must decide what he will save and what will be washed away.
Taking its inspiration from a real Georgia ghost town, Auraria is steeped in the folklore of the Southern Appalachians, where the tensions of natural, supernatural and artificial are still alive.
"I loved Auraria, by Tim Westover, who based much of his mythos on southern Appalachian folklore. This story romps across those rugged mountains and splashes gleefully into springs flecked with gold. Westover presents us with a delightfully imaginative world, where trees sing and fish swim in the mist. His fluid, humorous style draws us right into that magical place. Highly recommended."
Jo Ann Butler, Historical Novel Society
"When we decided to allow independent books in the Battle of the Books, it was with the hope that perhaps somewhere along the line we would find a hidden gem about which we could help spread the word. Auraria is it. Tim Westover writes at a professional level, and his quirky tale about a strange mining town where magic hides in plain sight is wonderfully fresh and original."
Aaron Hughes, Fantastic Reviews
"Auraria is such an appealing story because it crosses so many different genres: historical fiction (yes, the town of Auraria, GA, really did exist), fantasy, ghost story, and mystery. Southern folklore comes to life in Westover's hands as he intertwines fact with fantasy and superstition. But perhaps Westover's greatest achievement is proving book covers and publishers mean very little really; it's all about the story. The stuff in between the covers is what really matters."
Jaime Boler
"'Red fish that jump up from lakes of mist. Houses with infinite interior space. Farms frozen over by their springhouses. Moon maidens. Plat-eyes out to rob travelers not of their goods, but of their heads. Every hill and dale has its particular boogeymen.' This excerpt from Tim Westover's novel Auraria sums up the fantastical world the author has created in five sentences, but you'll want to read it from cover to cover."
Deep South Magazine
"Auraria is like nothing I've ever read before except maybe Through the Looking-Glass. Envision Lewis Carroll on a romp through the mountains of Georgia, discovering a land of shimmery mystery and spirits, humble monsters, quirky characters, singing trees and vengeful fish. This whole world has sprung from Tim Westover's brain yet remains firmly and lovingly the real thing, the actual Georgia landscape echoing with folk traditions of the southern Appalachians. The best part is that Tim Westover can really write. I'd give an Aurarian pot of gold to do what he's done with language in the service of imagination."
Josephine Humphreys, Hemingway/PEN Award Winner, author of Dreams of Sleep and Rich in Love
"Mr. Westover brings my beloved Georgia to life, complete with spells, haints, and moon maidens. Not since Wendell Berry has an author woven such a beautifully intricate southern community."
Ann Hite, author of Ghost On Black Mountain
"The legends, myths and history of the North Georgia mountains (along with some very inventive additions) are woven into a wonderfully entertaining story."
Victoria Logue, author of Touring the Back Roads of North and South Georgia